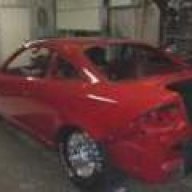 Joined

Jul 23, 2009
Posts

196
Reaction score

0
Just a bit of news. The floor and firewall are all done except for a bit of welding which will be done as the cage is finished off in the next few days.
The passenger side header is also being done as the final bends/piping arrived at the shop. These are almost the last things that need to be done before the car comes home to be wired.
The LSX block will arrive at the shop next week as it is now in route from Texas. Apparently there was a revision on the block by GM due to the thrust location causing the #3 main to crack. It is because of this revision that we had to wait for the newer version to be shipped out.
Besides the news for the progress of the car, I was just licensed by the NHRA to go racing. That was a great feeling when my temporary license arrived. Now I just need a car. Does anyone want to lend me an 8 second car that I can practice in, please??? LOL